School Governance Council
2023-2024
WCS SGC Timeline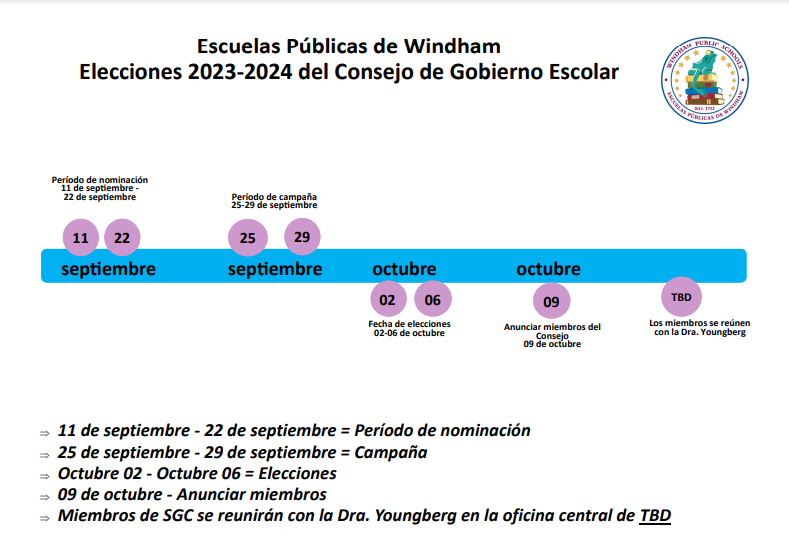 2023-2024
Windham Center School Governance Council Members
Kathleen Goodwin - Principal

Rose Perry - Parent

Gloria Rivera - Parent

Stephanie Martinez - Parent

Stacy O'Neill - Parent

Sheena Martin - Parent

Amanda Jimenez - Parent

Natasha Akers - Parent

Louisa Clauson - Parent

Dani Aponte - Teacher

Emily Kelly - Teacher

Jara Rijs - Social Worker

Martha Woods - ELA Content Specialist
Windham Center School Governance Council Minutes—January 19, 2023
7:30 am (Zoom/in person)
Attendees: Kathleen Goodwin, Kathy Bentley, Tara Webb, Liz Bates, Emily Kelly, Martha Woods, Jeannine Enamait
Members were introduced. There were no parents present. Each parent received a personal email and only one parent responded that they could not attend.
Team discussed the difficulty in getting parents and staff to attend and finding a way to accommodate everyone.
Mrs. Webb discussed activating a new crisis team to be trained in CPR/AED in case of a medical crisis.
Next meeting to be scheduled afterschool so that parents and staff may attend at dismissal.